Meet the unsung hero behind all these cool graphics featuring UL athletes | UL Ragin' Cajuns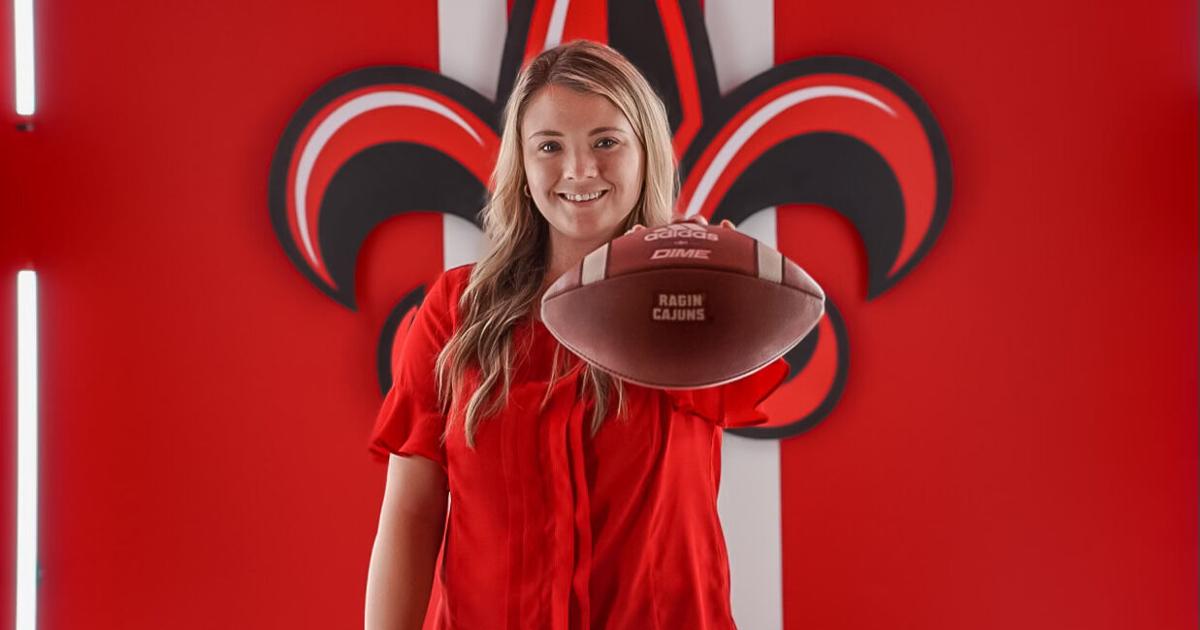 In 2019, Heather Williams applied for a marketing job at the University of Louisiana at Lafayette, but what she's actually done since arriving in the city has been more groundbreaking and rewarding than what the New Jersey native has. said she had never imagined.
"It was kind of just a happy accident that I walked sideways in this job," Williams said with a laugh.
Officially, Williams is the Senior Director of Digital Strategy for UL Athletics. Most UL fans have no idea what that means, but you've seen his work everywhere.
If a high school recruit visits or enlists or has a birthday, Williams creates a chart.
Every time the Cajuns win a game, she has a graphic on social media celebrating it. Anytime a UL athlete achieves anything, Williams is ready with a graphic on the website or on social media to cheat the feat.
Williams studied marketing at Coastal Carolina and later at the University of New Orleans, but when the former softball player and lifelong Yankees fan applied for the marketing opportunity, the former head of communications from UL, Patrick Crawford, actually threw him a slight curveball.
"He reached out and said, 'Hey, we want you to join the digital team? Because we kinda like what you do," Williams said. "I didn't really know what I was getting into when I got into it.
"My background in marketing was great, but I had built this graphics portfolio that I was doing on the side. I was doing posters (at the UN) because we didn't have anyone else to do them.
In many ways, Williams has been the unsung behind-the-scenes hero of UL's many sporting successes over the past three years.
"It's crazy because if you look at arms races in college athletics," said Nico Yantko, UL's deputy director of athletics, "a decade ago you still thought of facilities as an arms race. Now, it's really recruitment; it's creative services in the recruitment space. … You talk about name, image and likeness; you talk about resources that directly contribute to the improvement the well-being and the quality of life of our student-athletes.
"It's energizing and tiring at the same time, but we know we're ready. We have the innovative minds and the creativity here to continue to be the frontrunners in this space.
In short, it's about advancing the brand, broadening the base of the athletic department, and creating the experience that athletes are looking for.
"They get excited when they see content with their face on it and they love it," Williams said. "It's also a really cool and rewarding part."
It all comes down to two ultimate goals: recruitment and revenue.
"I honestly think that everything we do from a digital content perspective somehow trickles down to recruiting," Williams said. "We do a lot of recruiting-centric graphics…that really focus on potential student-athletes when they come to their tours or have their birthdays and things like that.
"But even the pieces we do that celebrate the successes of our student-athletes – making sure the people of Acadiana know that we're a truly successful program in all sports, not just football – whenever we can highlight our successes, it's just another facet that plays inside this recruiting piece.
But this is the Deep South, and there's never been a more exciting time to spearhead UL's football success.
"It was really exciting to be a part of it, even on a small scale," Williams said. "I'm not there to throw passes or receive tackles, but I'm able to help with recruiting where I can or anything that's going to give student-athletes a better experience while they're here or give fans something to put on their phones and support the team.
"Any way I can be a part of this has been really rewarding. When I see the teams win, it makes me feel good. »
It was never more interesting and fun for Williams than the end of the 2020 Sun Belt football race between the Cajuns and his alma mater Coastal Carolina. Unfortunately, the title match was canceled due to COVID-19 concerns in Coastal's camp.
"As a Coastal grad, I really wanted to go there," she said. "It was just a big game for me personally. As we were working on content for this game, I got to work on some really cool pieces that really meant a lot to me – just to build that rivalry.
And yes, she received a lot of good-natured grief from her colleagues at UL during this process.
"Oh, absolutely," Williams said with a laugh. "When I started here I had my nice little championship flag from baseball's victory (Coastal) in 2016 and I took it down very quickly.
"I may still have a Chauncey figurine (Coastal's mascot) tucked away in my office, but I've certainly had my fair share of banter. But I'm definitely a Cajun fan through and through now.
During his stay, football season ticket sales increased 40%, the softball grandstand was sold for the first time, and the university received its largest-ever donation when Notre Dame Regional Medical Center de Lourdes contributed $15 million for the upgrade of Cajun Field.
This all coincided with the tripling of UL's social media growth, as well as the development of the Geaux Lead program and the implementation of the ULtra program to enhance name, likeness and likeness licensing opportunities for UL athletes.
Ragin' Cajuns Sports Properties was recognized as the Learfield/IMF Team of the Year and the outside team was a finalist for the National Association of Collegiate Marketing Administrators Marketing Team of the Year.
These successes have also led former UL digital employees to move elsewhere. In the last football season, it was only Williams and Domingo.
But more resources are being poured into the graphics team. At the start of this football season, there will be three graphic designers and three videographers.
"There hasn't been a drop in content production," Williams said. "We just had to be more creative in how we did it. We had a lot of help from our sports information team.
"So now not only will every sport have dedicated coverage like we've done in the past, but we shouldn't have a single opportunity for the content that we're missing out on. We also have a group of people from a lot of different schools and from a lot of different backgrounds who are going to have ideas of how we can grow in this space, just really be competitive with anybody in the country.