GCHS Review Wins Best Graphics Award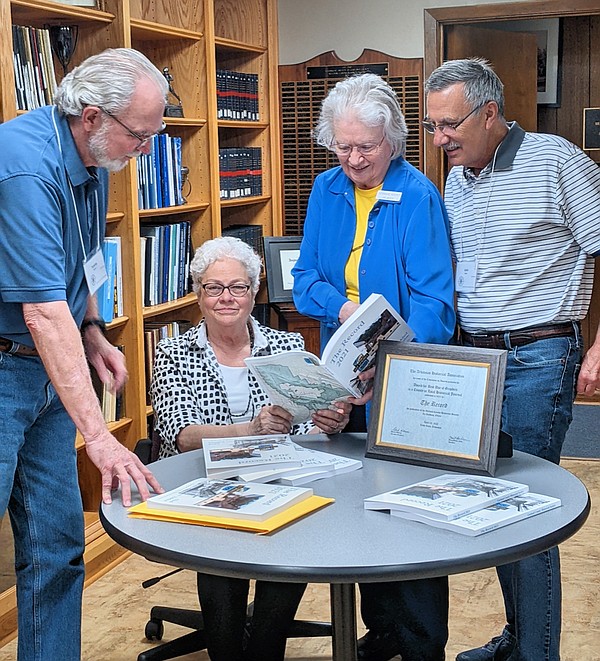 The Garland County Historical Society's annual journal, The Record 2021, was awarded the Walter L. Brown Award for Best Use of Graphics in a Historical County or Journal by the Arkansas Historical Association, according to a GCHS press release.
Liz Robbins, executive director of the Garland County Historical Society and editor of The Record, said the annual journal is "a collection of articles each year that examine different aspects of Garland County's history."
Robbins has been the sole editor of The Record since 2011 and Donnavae Hughes has also been the paper's main graphic designer since 2011.
"I'm thrilled," Robbins said. "Everyone involved in the journal works so hard to produce a quality product. Our graphic editor Donnavae Hughes is responsible for the magazine's appearance.
"I'm very proud of the team that helped put together the materials I work from, because it's essential," Hughes said. "I couldn't do a good layout and make a quality book like we did without a great team."
This is the second year in a row that The Record has won the award for best use of graphics, the publisher said. The newspaper has won several awards over the years, including Best Newspaper in the State awards as well as multiple runner-ups.
Video not playing? Click here https://www.youtube.com/embed/mkYix-i9AyI
The cover is one of Hughes' most significant projects when it comes to The Record graphics. The 2021 cover featured "then" and "now" photos of the official entrance to Hot Springs National Park. It was on the occasion of the 100th anniversary of the national park.
The "then" photo was taken from the Hot Springs National Park collection, and the "now" photo was taken by GCHS volunteer Mike Blythe, according to the release.
"I wanted it to really stand out and help the park in any way I could," Hughes said.
"The first article was written by Tom Hill, who is the curator of Hot Springs National Park," Robbins said. "And he wrote an article to tell us all about the 100th anniversary."
"One thing we love to do that makes a graphic designer so important to him is to have lots and lots of photos," Robbins said. "I think people like to see the story as well as read about it."
"Without the work of the editor and especially someone selecting and working on the images, I can't do the job," Hughes said.
The 62nd edition of The Record can be purchased for $25 from GCHS or through the website http://www.garlandcountyhistoricalsocety.com for an additional $5 for shipping.