An Exclusive Co-Creation Experience at Laboratoire Colonia – The Luxury Editor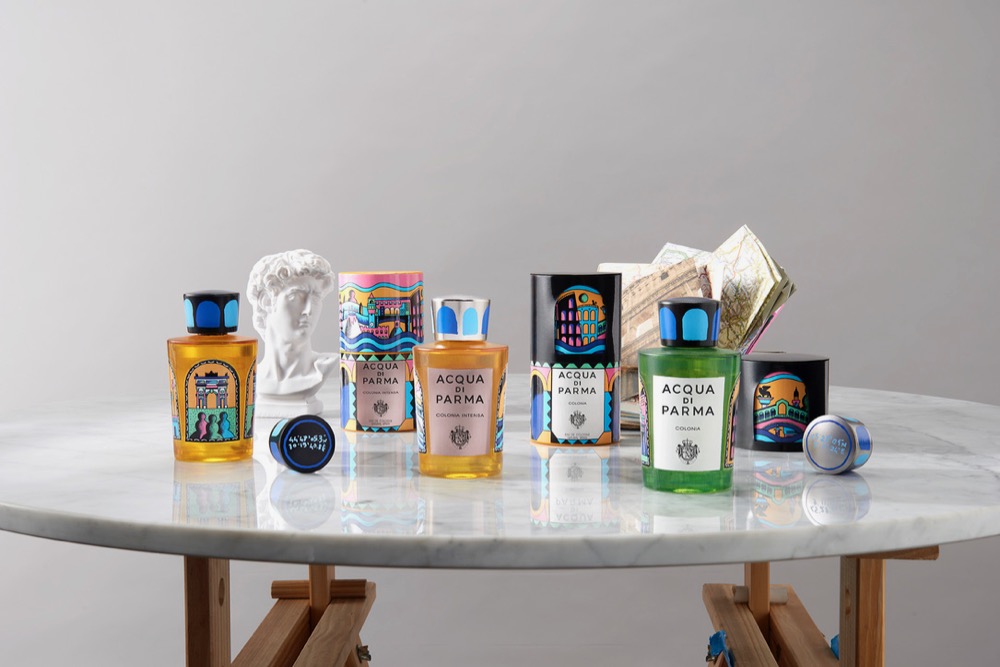 Acqua di Parma's new initiative, COLLAB, sees an open laboratory for sharing and exchange. Customers can select an artist and theme, customizing their own personal perfume bottle from the Colonia collection. In partnership with one of the most important schools of fashion, design, visual arts and communication in Italy, COLLAB will take place in the Milanese Boutique of the Maison, Via Gesù 1, from April 4 to 10. This is an exclusive opportunity, available in-store or online, to own collectibles.
Surprising techniques, visions and colors
Six emerging Italian talents will bring to life six different creative concepts of emotions and colors, in a collection of 300 unique 180ml Colonia Collection pieces. The dynamic artistic exchange will express modern art and visual communication movements through an all-Italian creative lens. COLLAB's themes have their foundations in Italian identity, drawing inspiration from cultural inspirations, history and architectural grandeur.
A one-on-one design journey
The co-creation lab will allow customers to add a personal touch to the final product – perhaps Anna Spreafico's Sky Signs which were inspired by the Italian horoscope tradition, adding elements of the method of traditional Venetian glass making. Or the imagery of Roman numbers of gladiators by Margherita Caspani reinvented as a playful encounter between men and wild beasts in Animalia. Or Claudia Bernardi symbols from Play With Me cards and Paolo Moscheni bandanas with personal messages, reflecting the universal emotions of love, hope and friendship. The bespoke result will be a true one-of-a-kind collector's item.
An exclusive co-creation experience
The shop will be transformed into a veritable creative laboratory for the week. Here, customers will be able to interact with the artist of their choice, observe and collaborate in the creative process. With inclusivity being so central to Acqua di Parma's philosophy, clients across Italy and Europe will be able to enjoy the same engaging experience, with the option of individual online appointments. These will be hosted on an integrated platform via the Acqua di Parma website and the personalized end product will be delivered to the customer's doorstep.
COLLAB reflects Acqua di Parma's values ​​of preserving culture, art and design while nurturing future generations of artists and designers; these six young talents will show the beauty of Italy to the world. Reservations are available at acquadiparma.com for individual appointments that will take place at the Maison's Boutique in Milan or online.